Do you suffer from high blood pressure (hypertension)? According to the Centers for Disease Control and Prevention (CDC), roughly 70 million men and women in the U.S. — or a third of the entire U.S. — suffers from hypertension. Many people ask me the question: "Can acupuncture treat high blood pressure (hypertension)? Let's look at some evidence.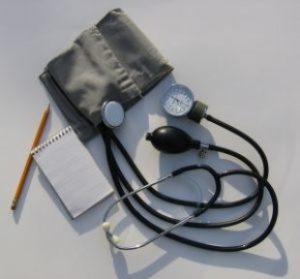 When a person's systolic blood pressure rises above 140 and/or their diastolic blood pressure rises above 90, it can lead to a wide range of problems. Hypertension increases the risk of heart disease, stroke, diabetes, and numerous other health conditions. But a new study suggests that acupuncture may help to ease hypertension, allowing individuals to regain control of their blood pressure levels.
Researchers at the University of California found that patients suffering from hypertension experienced a slight but noticeable decline in blood pressure levels after being treated for just 30 minutes a week with electroacupuncture. As you may already know, electroacupuncture is a form of Traditional Chinese Medicine (TCM) that combines the centuries-old practice of acupuncture with electrical stimulation. The needles are carefully placed in specific areas of the body just like any ordinary acupuncture session, but electrical currents are sent through them to further stimulate their effects.
For the study, patients were assigned to one of two different acupuncture groups over the course of an eight-week period. The first group received electroacupuncture targeting the patients' wrists and legs below the knee. These areas have acupuncture points that are have been shown to lower blood pressure levels in previous tests. The second group of patients received electroacupuncture in the forearm and lower leg.
Researchers found that roughly 70% of patients in the first group experienced a decline in systolic blood pressure by 6-8 mmHg, and diastolic by 4 mmHg. This reduced blood pressure readings lasted for nearly a month and a half after the electroacupuncture was performed.
As noted by the study's lead author, electroacupuncture may decrease the risk of stroke and heart disease due to its ability to lower the individual's blood pressure levels.
"Because electro-acupuncture decreases both peak and average systolic blood pressure over 24 hours, this therapy may decrease the risk for stroke, peripheral artery disease, heart failure and myocardial infarction in hypertensive patients," Longhurst said.
It's worth considering acupuncture as another tool to aid your cardiac health. In addition, the Dunetz Wellness Center offers a complete array of nutritional cardiac diagnostics that can greatly improve your heart health, Click Here for More Information.
Contact our patient coordinator to review what Dr Rodney and the Dunetz Wellness Center – Acupuncture Boca Raton can do to help you answer the question: "Can acupuncture treat high blood pressure (hypertension)? 
CALL US TODAY! 1-(844)-386-3891